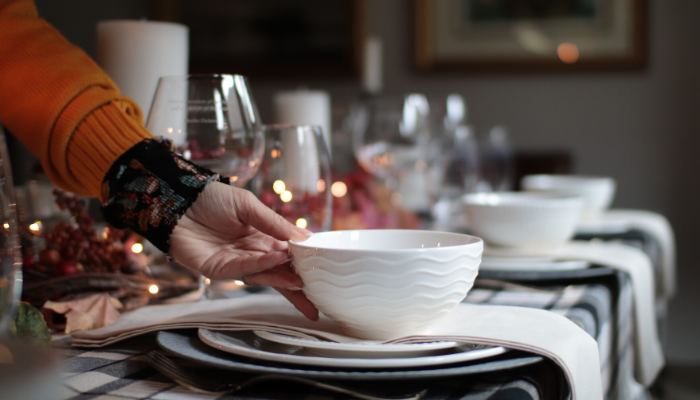 From twinkling lights to hot chocolate and decorating cookies, the holiday season comes with a bevy of traditions. Extra calories can sneak up on you during this time of year, but weight gain can be avoided by following a few simple strategies.
We've put together a list of six healthy eating strategies to help you successfully navigate this season's holiday parties and get-togethers. Read on.
1. Eat a Snack Beforehand
Don't skip meals to prepare for your holiday feast. Instead, have a small snack on the way, or right before you leave. Try pairing a complex carbohydrate with a healthy fat, like an apple and almond butter. You will be ready to eat when you arrive, but not ravenous.
2. Be Aware of Mindless Eating
Another strategy is to stand away from the food table to prevent mindless snacking. Harvard Health recommends chewing a piece of gum or a mint to stop yourself from nibbling before your meal.
If you are prone to eating while you mingle with your friends or relatives, take advantage of the fruit and veggie tray before diving into some of the heartier holiday options.
3. Bring a Healthy Dish
There's one way to be sure there will be healthy options at the table -- bring your own. Opt for a dish that's veggie-based or one that isn't heavy with saturated fats.
Need an idea or want to try out a new recipe? This list from Bon Appétit shares 45 healthy holiday side dishes that are chock-full of vegetables.
Related: Feel Years Younger: How to Get Your Energy Back >>
4. Be Observant of What's on the Table
Before you start piling food on your plate, take a walk around the food table and observe what is available. Prioritize your favorites, instead of mindlessly filling your plate.
5. Take a Walk
Exercise offers a variety of benefits -- and also provides some time for your body to regulate your blood sugar. Take a walk between dinner and dessert or grab a partner and dance to some holiday tunes.
A stroll around the block is an opportunity to look at holiday decorations while catching up with relatives you may only see a few times a year. Even better, make it a family tradition, so you can look forward to that after-meal walk year after year.
6. Savor the Favorites
At the end of the day, the holiday season is about savoring time spent with friends and family, which includes food. If pie is your favorite, the CDC suggests choosing a smaller portion, and going with pumpkin over pecan.
But if pecan pie is your favorite, or you can't resist the smell of sugar cookies, or the way your brother makes the best latkes – then enjoy your favorites in moderation.
If you do happen to overindulge this holiday season, don't fret. The holidays only happen a few times a year -- and one big meal isn't going to hurt your healthy-eating efforts.
Get More Health and Nutrition Tips from 305 West End
From healthy eating to skincare, get more health and nutrition tips to live your best life from 305 West End. Subscribe to our blog today to get started.