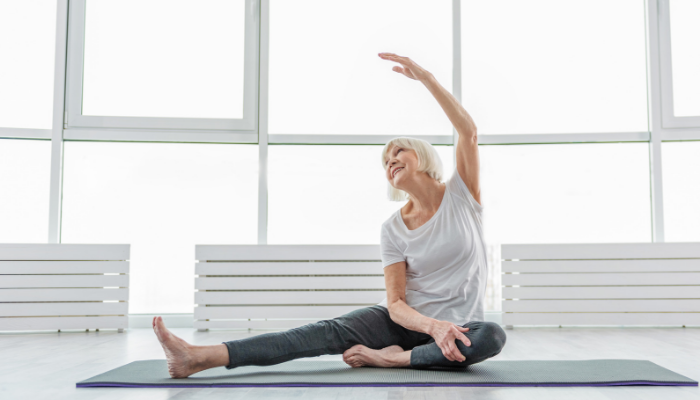 Feeling sluggish or wishing you felt more like you did in your younger years? You can do something about it - and a great way to start is by getting some exercise.
A new study by researchers at the National Cancer Institute and other organizations found that adults who began an exercise routine in mid-life - even if they hadn't exercised in years - gained health benefits comparable to those who had been physically active the whole time.
That's good news for you, whether you haven't exercised in a while or if you've never stopped your active lifestyle. Read below for more benefits of physical activity and ways you can get started today.
Health Benefits of Starting to Exercise Again
A higher level of physical activity can bring the following benefits:

Increased strength and endurance
Better sleep
A lower chance of becoming depressed
Reduced body fat and better control of your weight
Lower risk of falls
Increased energy
You might be particularly interested in that last point. It might seem counterintuitive - how can exerting energy actually give you energy?
According to the Mayo Clinic, it's because regular exercise promotes blood and oxygen flow throughout your body and helps your cardiovascular system work efficiently. That means it will begin to take you less effort to do daily tasks.
Exercise also stimulates your brain to produce chemicals that can help reduce stress and make you feel happier.
Physical Activity Guidelines for Older Adults
The U.S. Department of Health and Human Services has created updated guidelines for weekly physical activity. All adults should aim for 150-300 minutes of moderate physical activity or 75-150 minutes of vigorous physical activity each week. You should also incorporate balance and strength training into your workouts.
Finally, the guidelines call for less time sitting and more time moving throughout the day.
People with chronic illnesses are encouraged to get the same amount of activity, but even if they can't reach that goal, they should get as much activity as their abilities allow.
The U.S. Department of Health and Human Services also suggests starting a new physical activity regimen slowly, building up to your goal, and choosing activities that are appropriate for your fitness level.
Learn how 305 West End Assisted Living can help you lead an active, fulfilling life >>
Exercise Ideas for Older Adults
One of the simplest, most easily-accessible ways of getting physical activity is by walking. Around the building or block, or to a nearby park or favorite coffee shop, walking can strengthen your bones and muscles and improve your mood just like more complicated forms of exercise can.
If you're looking to try something different, explore some of the forms of exercise below:

Dancing, Tai Chi, or stretching
Jogging or running
Swimming or water aerobics
Riding a bike
Bodyweight exercises like pushups, situps, or planks
Digging and lifting (like while gardening)
Carrying groceries
Some exercises can have multiple benefits, like carrying groceries: You'll build both strength and cardiovascular endurance. Be on the lookout for easy ways to double up on your exercise!
Staying Active in Assisted Living
An assisted living community is a wonderful place to begin or renew an exercise routine because you no longer have to worry about the hassle of caring for your home.
At 305 West End Assisted Living, you'll find a way to stay active however you choose, including:

A fitness center, wellness programs, and fitness-related events and activities.
Close proximity to outdoor destinations like Riverside Park and Central Park, as well as cultural attractions like the American Museum of Natural History.
Walking access to shopping, fine dining, gourmet groceries, and more.
Learn more about a sophisticated lifestyle at 305 West End Assisted Living by requesting a complimentary brochure today.