Summer gets all the attention when it comes to food - fire-engine-red tomatoes bursting with juice; ripe strawberries and raspberries; and more squash than you know what to do with.
In the wintertime, you might be surprised by all the produce that's available, including a wide variety of squash (pumpkins, acorn, and spaghetti), crisp cabbage, tart citrus, and more. Do a little exploring at your favorite nearby market, and you'll come away with more than enough produce to feed your craving for something new.
We've curated 10 recipes with the best of winter's bounty, ranging from savory entrées to sweet desserts.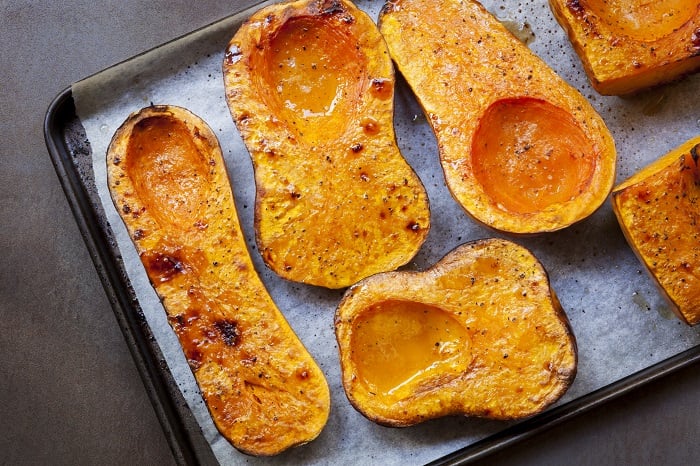 Winter offers a wide variety of fresh fruits and vegetables.
Winter Recipes with Vegetables
Chunky Borscht from Food and Wine
Hearty and rustic, this soup is perfectly finished with a dollop of sour cream and some fresh dill. It's also the perfect excuse to slice into a crusty loaf of good bread. You can include a smoky meat like ham or kielbasa or omit it to your preference.
Skillet Phyllo Pie with Butternut Squash, Kale, and Goat Cheese from Bon Appétit
With delicately rumpled folds of phyllo, this savory pie is as beautiful as it is delicious. It would make a perfect dinner party dish as well as a filling brunch option. If you purchase frozen phyllo for this recipe, be sure to let it rest at room temperature for a few hours before working with it.
Homemade Pasta With Spicy Cabbage and Bacon from Saveur
Plain cabbage is spiced with cayenne and wilted in bacon fat before being tossed with thick, toothsome pasta. The result is a delicious, comforting meal. It's a twist on a traditional Slovenian dish that will warm you up on a cold winter's night.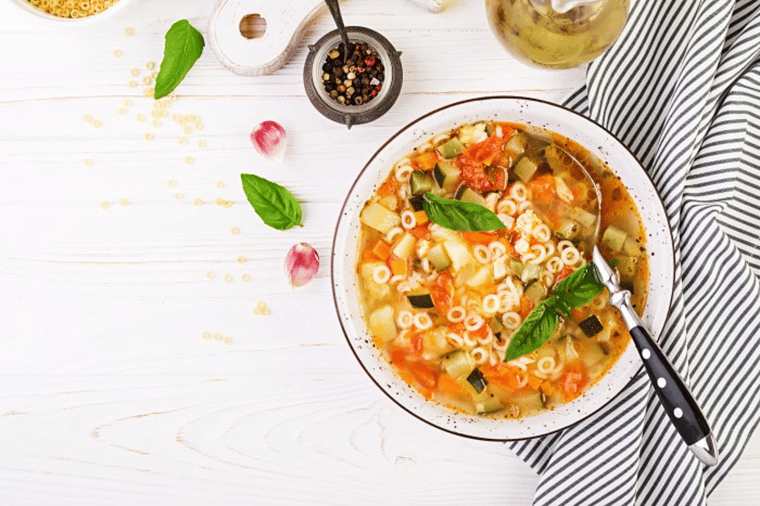 Hearty soups are a wonderful way to warm up during winter's coldest months.
Winter Minestrone and Garlic Bruschetta from Barefoot Contessa
Trust Ina Garten to amplify the hearty flavor of minestrone with pesto, white wine, and a side of garlic bruschetta. This recipe makes enough to feed a crowd - or prepare it for yourself and enjoy delicious leftovers for several meals.
Curried Butternut Squash and Apple Soup from Cooking Light
Another soup, this one ranges toward sweet instead of savory. With mild, creamy butternut squash and a kiss of maple syrup, this recipe is a respite from often-heavy winter meals. If you're sensitive to spice, swap out regular curry powder instead of the Madras kind called for here.
Celery Gratin from Food Network
Celery is often relegated to the crudités platter or a soup base. Here, it takes center stage in this recipe for a creamy, crispy-topped gratin which also includes scallions, Parmesan, and fresh parsley. This would make a wonderful accompaniment to a hearty main course like a roast.
Wild Mushroom and Parsnip Ragout With Cheesy Polenta from Epicurious
Combine earthy wild mushrooms with creamy polenta for an umami-packed vegetarian main course. The recipe suggests pairing it with a lighter side like spinach or a fresh salad, but a fruit-forward recipe like the ones below would work just as well.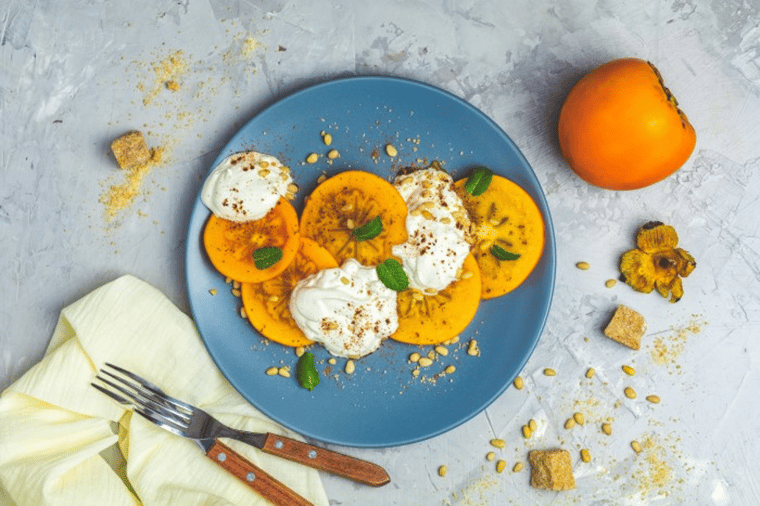 Enjoy the sweet taste of persimmons, citrus, and apples in this easy to make dessert.
Winter Dessert Recipes with Fruit
Broiled Persimmons With Mascarpone from Martha Stewart
This fruit, which is in its peak season through March, can be hard to find. But locate one and you'll be rewarded with a rich, custardy treat. Top the fruits with rich vanilla-spiked mascarpone for a light yet satisfying dessert.
Mixed Citrus Salad With Feta and Mint from Smitten Kitchen
It seems a little ironic that bright, sweet-tart, sunny citrus is in season in the wintertime – but we are thankful it is. This colorful salad boasts four different types of citrus, but you can use whatever your favorites are.
Apple Skillet Cake from King Arthur Flour
While peak apple season is technically past for most parts of the country, apples are widely available in the winter. And this easy treat - a riff on German sunken apple cake - is a perfect way to show them off as well as eat them.
Hungry for More? You May Also Like…