The new year is a time of new beginnings. No matter our age, it offers the opportunity to reset and recalibrate our daily habits, routines, and learning to ensure we are living our very best lives.

As you begin this new year, now is the perfect time to commit (or recommit) yourself to your mental, physical, and spiritual health goals. These seven suggested goals range from daily self-care to journaling — and offer tips on integrating new, healthier habits into your daily routine.
Tips on Integrating Health and Wellness Habits Into Your Daily Routine
1) Eat healthier foods.

You don't need to go on a diet to eat healthier. Instead, gradually add nutrient-dense foods like fresh fruits and vegetables. Try to cut down on foods with excess salt, fat, and sugar. Start by including some of the following foods in your meal - they're rich in vitamins and minerals, and may even help support immune health.
Fruit - citrus, papaya, blueberries, kiwis
Vegetables - garlic, red bell peppers, spinach, broccoli
Nuts and seeds - sunflower seeds, ginger, almonds
Read more: Boost your immune system with these fruits and vegetables >>
2) Increase your physical activity.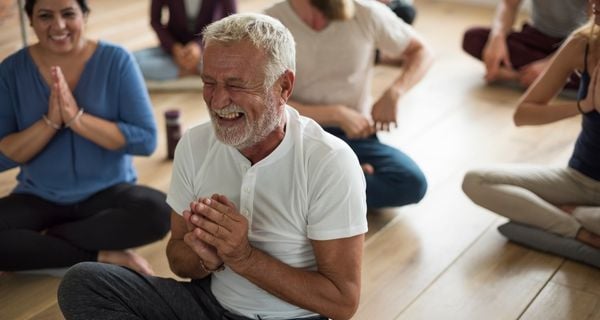 Regular physical activity has important benefits for your overall health. Exercising often can help prevent or delay health problems, manage weight, and improve brain health. It can also strengthen your bones and muscles, allowing you to remain independent with your day-to-day activities.
According to the Centers for Disease Control and Prevention, older adults need the following physical activity:
At least 150 minutes of moderate-intensity activity each week, like brisk walks, swimming, or cardio exercises
At least two days per week of activities that strengthen your muscles
At least three days per week of activities that focus on improving balance
It's important to consult your physician for guidance before adding new exercise activities to your routine
Learn more: Why walking is so good for senior health >>
3) Show gratitude each day.

The simple act of gratitude has numerous proven benefits. Simply saying "thank you" can improve your relationships and even help you make new friends.
Being grateful can also improve your overall physical and mental health. Those who practice gratitude tend to stick to their exercise and nutrition goals. Additionally, multiple studies have found a link between gratitude and mental well-being.
Try practicing gratitude by writing down three things you are grateful for each day. Consider sending someone a thank-you letter. Express appreciation and kindness to service workers you encounter at stores, gas stations, or restaurants.
4) Incorporate self-care into daily routines.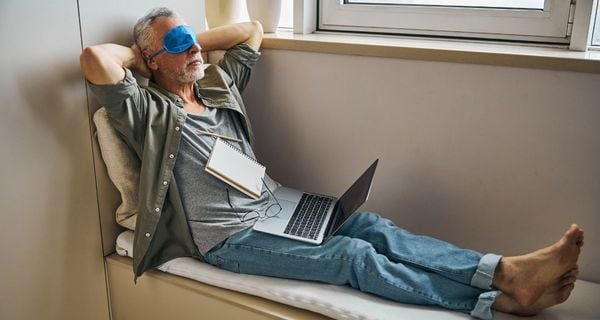 Self-care is a series of intentional practices an individual takes to promote health and well-being. It's important to take care of yourself so you can feel better, be better equipped to help others, and set out to accomplish your daily goals. Self-care can also help you cope with stress in everyday life.
Start incorporating self-care into your daily routine using a process called habit stacking. This means pairing a new habit with an existing behavior.

For instance, before you go to bed, you probably brush your teeth. To start a new habit, tell yourself, "After I brush my teeth, I will meditate for 2 minutes," or, "After I brush my teeth, I will read one chapter from a book that relaxes me." Start small with one practice each week, and add more self-care practices as you feel comfortable.

Get more self-care ideas: Simple self-care ideas >>
5) Talk about your fears and anxieties.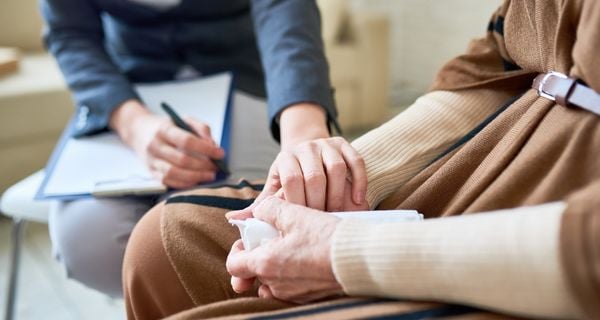 Remember how gratitude can improve your mental health? Simply talking about or sharing your fears, anxieties, and worries with someone can also benefit mental wellness.

Research from UCLA suggests that putting your fears into words can reduce the fear response in your amygdala and other regions of the brain. These benefits can be experienced whether you share your feelings with a few close friends, a therapist, or a support group.
6) Start a journal.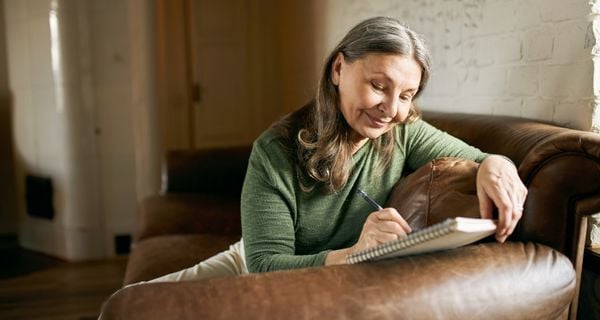 Journaling has been shown to improve mental health. Starting a journal can help you track and process your emotions, resulting in decreased stress. It can also help you manage anxiety and cope with feelings of depression. Identifying these feelings and recording the circumstances around them may help you develop an action plan to manage your stress or anxiety better.
Journaling is also a good way to keep track of goals that you have set for yourself. Create a chart to record your progress (exercise, self-care, etc.), and be sure to celebrate each win!
7) Revisit hobbies.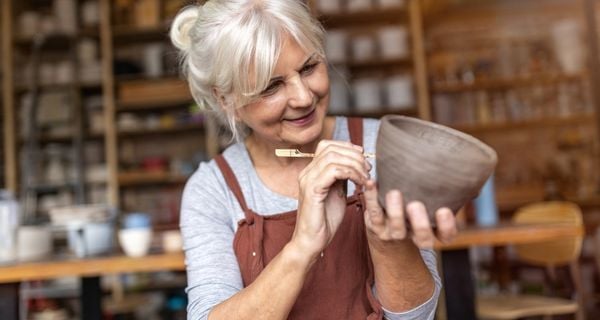 As we get older, many of us focus more on work and family responsibilities than on the hobbies and passions of our youth. Yet, studies have shown that participating in leisure activities we enjoy can reduce blood pressure, waist circumference, and body mass index — and even improve one's perception of physical health.
Consider taking out that watercolor set, 5,000-piece puzzle, or old pottery wheel, and have some fun — for your health! And don't be afraid to try something new. Find a community center near you that offers a class for something you're interested in. You might even meet some new friends in the process.

Read more: Tips for creating and strengthening friendships as we age >>
More Lifestyle Resources
If you found these tips helpful, read more about simple exercises you can do in smaller spaces, or strategies for fueling your body before, during, and after exercise.
This blog was updated in January 2023.