Meaningful friendships are important at any age, but they can be especially beneficial as we get older. Unfortunately, social isolation is more common among older adults — making it important to find ways to prevent loneliness.
Creating and strengthening friendships is a great way to alleviate loneliness and reduce your risk of depression and other health concerns associated with social isolation. This blog will identify the benefits of friendships, provide social activity ideas, and review tips on making friends.
Benefits of Meaningful Friendships As We Age
There are numerous benefits to having meaningful friendships as we age. Friends can provide companionship and support during challenging times. They can also be there when we have exciting news to share and fun experiences to explore.
Building meaningful friendships can also help you:
Improve your self-worth and provide a sense of purpose.
Increase your mood.
Reduce stress levels.
Change unhealthy habits.
Cope with loss.
Reduce your risk of depression and other health conditions.
Increase your life expectancy.
It can be difficult to make new friends as we get older. Aging adults often devote much of their lives to their families, leaving friendships on the back burner. As families and grown children become busy with their own lives, many seniors find themselves with fewer activities to fill their time. This is when it's essential to shift the focus back to your interests and sense of self.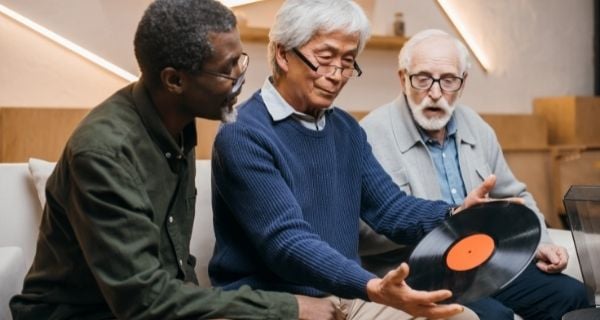 Social Activity Ideas for Older Adults
Finding activities of interest near you is often an easy way to connect with others and meet new friends. Maintaining an active lifestyle is good for your overall health and well-being.
Here are some activities to help you stay engaged with others:
1. Visit your area senior center.
Find a senior center near you and stop by for a visit. Ask about their activities and programs, and sign up for classes that interest you.
2. Book a trip with a professional travel tour company.
Check out professional travel tour companies if you enjoy traveling but aren't comfortable going out on your own. You can book a single room but enjoy the company of others in group dinners, excursions, and activities. A travel professional will create an itinerary and arrange your transportation — all you need to do is arrive ready to have a great time.
3. Volunteer at a non-profit organization.
Think about skills you have or activities you enjoy, and seek out community organizations that may need your assistance. You might volunteer your time reading to children at a local school or help with programs at a library in your community.
There are also national organizations that can assist you in your search:
AmeriCorps Seniors - AmeriCorps Seniors matches seniors with service opportunities in their partner organizations.
AARP Foundation Experience Corps - AARP Foundation Experience Corps is a tutoring program to help children improve their reading abilities.
VolunteerMatch - VolunteerMatch seeks volunteers to meet the needs of nonprofit companies.
4. Take a class at your local community college.
Contact your local community college or university to explore classes that you might enjoy. Some schools offer complimentary or discounted classes for community members or older adults. And not to worry about grades — often, you'll simply be able to audit a class.
5. Join a hobby group.
Determine new hobbies that you'd like to learn more about or old hobbies that you'd like to rekindle. Search online, through social media groups, or contact your local senior center to see what options are available near you. Libraries, museums, religious organizations, senior living communities, and hobby stores frequently host hobby groups.

Related: How to Help Your Loved One Stay Socially Active >>
6. Sign up for exercise classes for older adults.
Fitness centers often plan exercise classes geared toward older adults. You may even find a fitness center that maintains its entire focus on older adults. Request a complimentary pass to try out exercise classes. Make sure you choose a form of exercise you enjoy so you'll look forward to returning.
7. Share your talents with others.
Do you have a passion for the arts, music, or other interests? Think about where you could share this talent with others. You might consider playing an instrument for your grandchild's class or leading a hobby demonstration at a community event.
You'll not only brighten someone else's day, but you'll boost your mood in the process.
8. Learn how to play a musical instrument.
If you used to play an instrument or have always wanted to learn, check into your community's music store classes. Typically, instruments are available to rent if you aren't ready to invest in purchasing one. And usually, instructors have small group class options for beginners.
9. Participate in a book club.
If you like to read, joining a book club can be a fun way to meet others with similar interests. You can get to know each other through discussion in a small, casual group setting.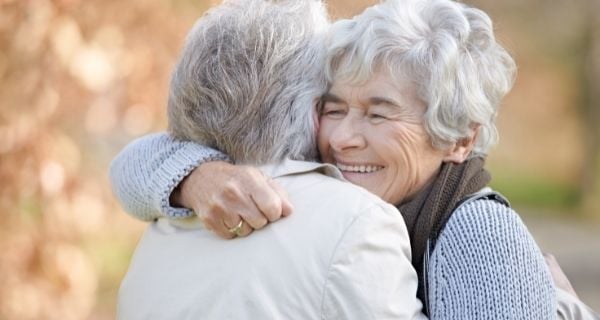 Online Opportunities for Social Connections
Social media and other online platforms can be a great way to meet and connect with others. It's also convenient to remain in touch with family and friends who live far away. You can get updates on happenings in their lives and view recent photos.

Meeting new friends through online channels can be beneficial, but it's important to keep safety in mind. Be judicious about what and how much you share, particularly to people you don't know well.
Join an online group that shares a common interest — like a virtual book club or a photography group. If you aren't as confident as you would like in using technology, there are plenty of online groups that can help.
If you choose to meet an online acquaintance in real life, bring a friend and gather in a public place.
Be cautious about sharing personal information. Also, be informed about the privacy policies and security settings on websites you use, such as social media.
Use an antivirus application on your computer.
Set your computer to install security updates automatically.
Avoid sending money to someone you don't know.
Be alert about clicking links that seem suspicious or don't make sense in context.
Above all, trust your intuition if someone or something seems suspicious.
Tips for Strengthening Friendships Later in Life
It's easy to feel nervous when meeting new people, especially if you are introverted. Practicing relaxation and mindfulness techniques can help calm your anxieties and reduce your fear when around others.
Sometimes it's helpful to remind yourself that most people feel nervous when getting to know others for the first time. When you can acknowledge this and recognize the importance of social connections, you'll be more open to new experiences and friendships.
Here are a few tips to keep in mind when building friendships:
Be a good listener.
Show kindness and keep an open mind.
Set aside time for your friends.
Follow through on your commitments.
Share personal feelings and stories.
Ask questions and validate their feelings.
Step out of your comfort zone.
Reconnect with former friends.
Be willing to try new things.
Friends can positively impact your life and help you navigate loss, health concerns, and other life events. Social connection can also help improve self-esteem and reduce anxiety. Determine what interests you and find an opportunity close to home that will connect you with new friends and give you a sense of belonging.
Additional Entertainment and Leisure Resources
Visit our blog's entertainment and leisure category to learn more about similar topics, such as unique ideas for virtual get-togethers, virtual book clubs, and easy indoor garden spaces.