Walking is an easy, natural way to exercise. According to the CDC, regular physical activity is key to promoting better health and reducing the likelihood of many age-related health issues. Whether you can get the CDC-recommended thirty minutes of activity a day, five days a week, or just ten minutes a few times a week, engaging in some type of exercise is better than getting none at all.
There are many benefits for seniors who choose to walk regularly. In this article, we will explore why and how walking is good for senior health.
Senior Health Benefits of Walking
Walking is good for senior health because it improves overall circulation and increases endorphins. Walking offers a host of other health benefits, including:
Lower blood pressure. By increasing the heart rate, walking can strengthen the heart and lower blood pressure. This increased circulation can also lead to better blood flow to the brain,

which may improve brain health

.
Increased longevity. Physical activity can help reduce the risk for chronic illnesses including stroke, heart disease, and type 2 diabetes.

One study found

that regular physical activity could result in an increased life expectancy of 0.4 to 4.2 years.
Reduced Alzheimer's risk. Those who walk regularly may

slow memory decline

, in addition to lowering their risk of Alzheimer's disease. Research suggests that older sedentary men who walk less than a quarter of a mile per day appear to be almost twice as likely to develop dementia or Alzheimer's disease compared to those who walk more than two miles per day.
Greater muscle and bone strength. Walking can reduce or even stop the loss of bone mass for those with osteoporosis. It's also a great exercise to increase muscle strength and range of motion, as it can tone your leg, abdominal, and arm muscles - especially if you swing your arms vigorously as you walk.
Improved mood. Regular exercise has been linked to improved mental health – but how and why exercise boosts your mood is still being researched. Medical experts theorize that an increase in serotonin levels, improved sleep, and training your brain to respond better to stressful situations may all play a role.
Make Walking a Habit
Knowing that walking regularly is beneficial to health and transforming that knowledge into action can be difficult. Here are some suggestions for making walking a habit:
Make a regular "walking date" with a friend, family member, or even your pet.

The CDC shares

that those who exercise with a partner feel more motivated and are more consistent in sticking to their fitness routines. Sticking to a regular date and time is also a great way to "train" yourself to make these dates as integral to your day as a morning cup of coffee.
Switch up the routes you take. While you may enjoy taking a stroll around your neighborhood the first few weeks, you may find you grow bored with the same route. Try switching up your routes to take you to places you don't visit regularly. Or, change the scenery entirely and explore a new park or green space.
Set yourself daily, weekly, or monthly walking goals. Fitness trackers like pedometers or apps on your phone can be used to track your walks. Meeting a step goal each day or week can help you feel more motivated and accomplished. This can also be a fun way to challenge yourself to "take a few more steps" week to week.
How to Make Walking Easier
As we age, some of the simple physical tasks and activities we took for granted when we were younger become more difficult. If you are concerned about mobility, speak to your doctor about the possibility of using walking aids to make exercise easier for you.
There are many walking aids that seniors can use if they need a little extra help. Here are a few of them: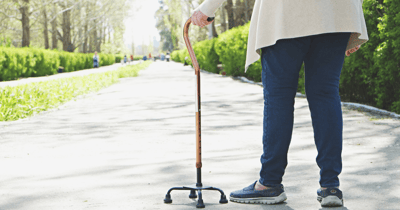 Nordic pole. "Nordic walking" using Nordic poles is not only beneficial in helping you keep your balance, but can

also be a powerful full-body workout

. This type of walking began in Finland in the 1990s as a way for cross-country skiers to maintain their fitness levels in the off-season. Using Nordic poles can help increase your stride and range of motion and burn up to 46 percent more calories than walking unaided.
Cane. If you have mild balance issues, a cane may be the best option to assist you with taking walks. Canes allow you to navigate various types of terrains and are easily portable.
Walker. A walker is a wonderful tool for older adults who need extra help with both getting up into standing positions and walking for any length of time. Having a walker allows you greater confidence and control, though you will need to stay on flat surfaces.
Rollator. If you find that you get tired easily, a rollator may be a better option than a walker. A rollator comes with a built-in seat that allows you to sit and rest and get up again easily when you're ready to move on.
Stay Active at 305 West End
Live a luxurious and active lifestyle at 305 West End. Located in the desirable UWS neighborhood, this community offers exceptional access to Central Park and other beautiful walking opportunities. Learn more about the sophisticated living options at 305 West End Assisted Living by requesting a complimentary brochure.