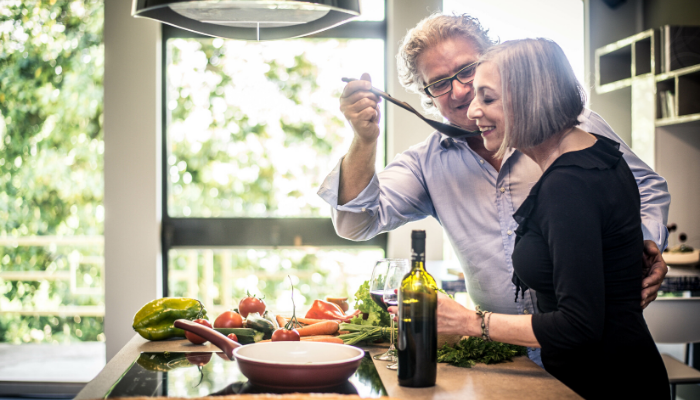 Spending more time at home means many people are rediscovering the joys of preparing meals. And whipping up a healthy, delicious meal or snack is a great way to spend some time.
We've collected a set of simple-to-make meals following the Mediterranean diet principles. Read on to learn more about this eating pattern and get the recipes.
What is the Mediterranean Diet?
Don't let the word "diet" fool you - this eating style has nothing to do with counting calories or restricting yourself. Instead, it's all about eating nutritious, tasty foods common in Mediterranean countries.
The types of foods common in this diet - and ones you'll find in the following recipes - include:
Olive oil and olives
Fresh fruits and vegetables
Whole grains and nuts
Fish, poultry, beans, and eggs
Moderate amounts of dairy
This diet is high in healthy fats from nuts and olive oil, and packed with plants instead of meat. Wine-lovers will be glad to know that red wine is part of this diet when enjoyed in moderation.
Health benefits of this diet may include a decreased risk for numerous chronic diseases, including type 2 diabetes, high blood pressure, high cholesterol, and heart disease. People following the Mediterranean diet may also live longer and be less prone to gaining weight.
Easy Mediterranean Recipes for Breakfast, Lunch, Dinner, and Snacktime
Breakfast
Mediterranean Flavored Oats
Rich in fiber, as well as minerals and antioxidants, oats are a staple of the Mediterranean diet. This overnight version is paired with ricotta cheese and almond butter for an added protein boost.
Honey Almond Ricotta Spread with Fruit
A good source of calcium, ricotta cheese is also high in protein. Pair this tasty spread with your favorite granola and fruit for a delicious breakfast parfait.
Greek Yogurt Breakfast Bowls
If you prefer a different start to your day, try one of these simple Greek yogurt bowl ideas for a protein-packed breakfast. Peach and cinnamon or savory avocado are just two of the varieties you'll find.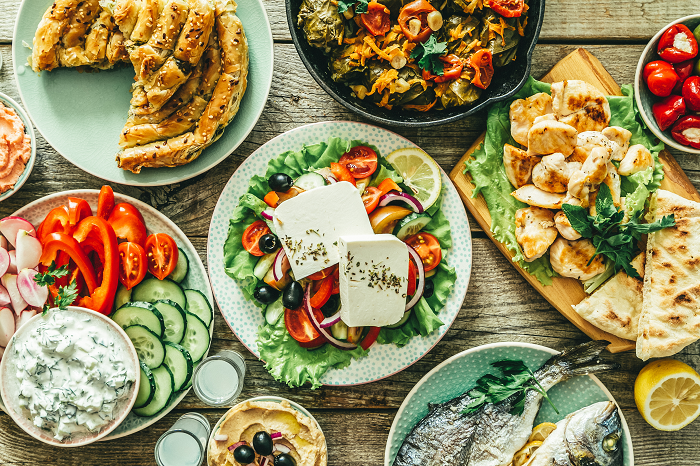 Lunch
Shrimp, Avocado, and Feta Wrap From Cooking Light
This wrap is packed full of flavor and includes seafood - a key component of the Mediterranean diet. Serve it with fresh fruit like melon for a light, delicious lunch.

2. Mediterranean Lettuce Wraps From EatingWell
A different type of wrap, these veggie-filled lettuce cups are portable and easy to prepare ahead.

3. Greek Pasta Salad From Delish
This light pasta dish is a snap to prepare and includes everyone's favorite flavors from a classic Greek salad. To boost the nutrition even further, use whole-wheat pasta.
Dinner
Greek Veggie Tacos
Loaded with fresh veggies, creamy hummus and salty feta cheese, these Greek-inspired tacos are the perfect dish for Meatless Monday or Taco Tuesday. Kalamata olives provide a good dose of healthy fats, while hummus is an excellent source of lean protein.
Healthy Mediterranean Chicken Orzo
This recipe ticks all the boxes – lean protein from the chicken, healthy fats from the kalamata olives, and fresh veggies from tomatoes. Pair with orzo pasta and feta cheese for a light, refreshing dinner. Short on time? Use microwavable pasta and pre-cooked chicken strips.
Mediterranean Tuna Antipasto Salad
Canned tuna and chickpeas – wonderful sources of lean protein – are the foundation for this quick and easy salad. Pair with a loaf of crusty bread and your favorite sparkling water.
Next Read: Simple Self-Care Ideas
Eating a nutritious diet is one way to make sure you feel your best. Get more tips for self-care in our next article.