You'll encounter an upscale lifestyle at 305 West End Assisted Living, including luxurious apartments and the finest services and amenities. In addition to the beautiful accommodations, residents experience an active, engaging way of life where health and well-being are top priorities.
One of the ways we promote health and wellness in our community is through our exceptional culinary offerings and dining experiences. Residents here enjoy gourmet meals, cooking classes, and nutritionally planned meals.
Learn more about our dining program in this blog, curated by the 305 West End culinary team.
Dining Venue Options at 305 West End
Residents benefit from three delicious and nutritionally planned daily meals served in our country club dining room or bistro grille. A juice bar is also available for healthy smoothies, light snacks, juices, and other specialty drinks.
The 305 West End culinary team strives to get to know each resident's tastes and preferences so they can deliver excellent service. It's not uncommon for staff to remember what beverages residents prefer, how they like their eggs prepared, and which desserts are their favorites.
Our Reflections Memory Care community features a private dining room for residents living with Alzheimer's. This designated space allows for a calm, secure environment where our caring staff can provide assistance and personalized services.
Special Diet Accommodations
305 West End Assisted Living can accommodate modified diets to meet the individual needs of each resident. We can prepare therapeutic diets, including the following:
NAS - no salt added
NCS - no concentrated sweets
LF - lactose-free
GF - gluten-free
Mechanically altered - soft to chew, chopped, ground, and pureed
Related: How to Successfully Maintain a Special Diet in a Senior Living Community >>
Wellness-Focused Amenities
Our services and amenities are intentionally designed to focus on our residents' health and overall well-being. Residents are encouraged to use our fitness center, try a cooking class, participate in exercise classes, and enjoy fresh air on our outdoor terrace.
We also provide additional on-site amenities that make life easier and promote an independent lifestyle. Consider the following amenities while picturing yourself living here:
Housekeeping, weekly linens, and laundry
Entertainment, educational programs, and social activities
Cinema
Salon
Town care service to appointments
Motorcoach transportation for nearby shopping, dining, and attractions
Related: The Advantages to Choosing a Senior Living Community in New York City >>
Creative Culinary Events
Eating well is important, especially as we age, so why not make it fun? Our dedicated culinary team loves to serve creative dishes and collaborate with the recreation department to host food tastings, themed meals, and demonstrations. There's never a dull moment in our kitchen as our staff plans and facilitates memorable dining experiences for residents.
To keep the dining program fresh and fun, we take advantage of in-season ingredients and source local meat, seafood, and produce from our local farmers. We also educate residents on how food affects our health and well-being. Our menus include clean foods that promote healthy brain function and improve cognitive ability.
Related: Favorite Fine Dining Options on the Upper West Side >>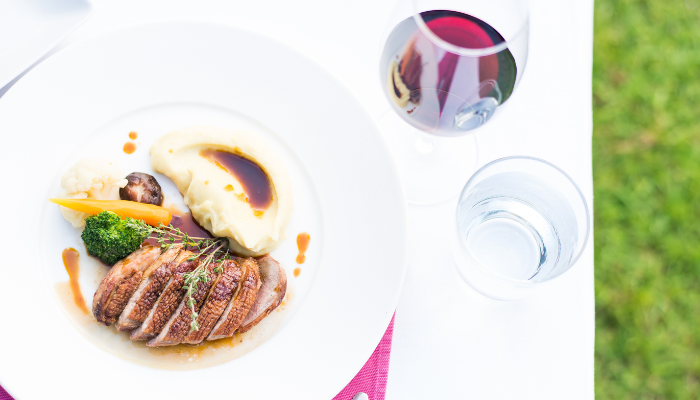 Sample Menus at 305 West End
Get a glimpse of a sample dinner menu in our country club dining room.
SAMPLE DINNER MENU
Glass of Wine – Chablis, Burgundy, or Blush
Appetizer:
Beef Vegetable & Barley Soup
Fresh Seasonal Fruit Salad
Tossed Garden Salad with Choice of Dressing
Featured Entreés:
Pan-Seared Frenched Veal Chop w/ Rosemary Port-Demi
Served w/ Parslied Egg Noodles and Sautéed Zucchini
Seared Duck Breast w/ Cherry Sauce
Served w/ Whipped Yukon Gold Potatoes and Peas, Carrots, & Pearl Onions
Sautéed Chilean Sea Bass over Braised Leeks w/ Horseradish Cream Sauce
Served w/ Baked Sweet Potato and Steamed Spinach
Always Available:
Tuna, Salmon, Whitefish, or Egg Salad Platter – Sandwich or Wrap
Gefilte Fish, Herring in Wine Sauce, or Sardine Platter
Farm Fresh Eggs Cooked to Order
Sweet Endings:
Marble Cake with Whipped Cream Topping
Sugar-Free Iced Chocolate Cake
Discover a Luxurious Lifestyle at 305 West End
Learn more about life in our community, where residents enjoy carefree living, beautiful accommodations, and numerous amenities. Schedule a personalized visit to meet our staff, view our on-site amenities, and explore our spacious residences. You can also enjoy a chef-prepared meal while you're here!