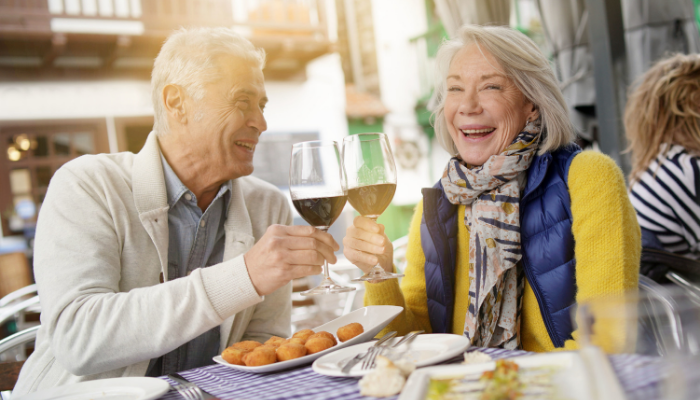 From global cuisine experiences to hearty American classics (and everything in between, including tantalizing desserts!), there's no better place to eat than New York City. Open Table estimates that you could eat at a different restaurant every day for more than 22 years.
The Upper West Side of Manhattan is packed with upscale eateries to feed Broadway patrons, as well as visitors to Central Park and other cultural sites. Whether you're looking for a casual venue to dine with friends or a romantic date spot, our list of favorite restaurants to try will make your next dining-out experience a memorable one.
Cozy Italian Dining at Bella Luna
Address: 574 Columbus Ave.
Open since 1988, Bella Luna is an Upper West Side favorite serving Northern Italian fare. Appetizers include beef carpaccio or calamari, while main dishes include specialty pastas like lobster ravioli or brick oven pizzas.
For theater-goers, Bella Luna offers a prix fixe menu Monday through Friday, as well as a robust brunch menu that includes sweet and savory offerings.
Finish your meal with homemade tiramisu or a slice of ricotta cheesecake.
Luxury Delicacies at OLMA Caviar Boutique and Bar
Address: 420 Amsterdam Ave.
Enjoy local and inventive dishes at OLMA, which received an OpenTable Diner's Choice Award in 2018.
Seafood and caviar are the stars of the menu, from a classic shrimp cocktail to the caviar tasting platters to an extensive wine and champagne list. OLMA is a perfect choice for an indulgent and upscale dinner.
Related: Here's how to help your senior loved one stay socially active >>
Address: 200 W. 70th St.
No list of Upper West Side restaurants would be complete without mentioning Café Luxembourg. It's been serving patrons since 1983 and doing a fine job of it.
Choose from breakfast, brunch, lunch, brasserie, and dinner menus. The steak frites and grilled lamb are popular options, as are the French onion soup and profiteroles for dessert.
American Classics at Maison Pickle
Address: 2315 Broadway
Maison Pickle is a sister restaurant to Jacob's Pickles, the Southern comfort-food mainstay. But at Maison Pickle, two things reign supreme: French dip sandwiches and artfully-created cocktails.
Pick your sandwich from four core options, and enjoy each with the restaurant's signature dill pickles. Or, select a diner classic like a patty melt or fried chicken. For lighter options, try the market pasta or tuna niçoise salad.
Delectable Desserts at Levain Bakery
Address: 351 Amsterdam Ave.
Since 1994, chocolate chip cookie lovers have lined up to sample Levain Bakery's signature desserts. Cookies not your thing? Levain Bakery offers a wide variety of baked goods guaranteed to satisfy your craving.
Try a classic option like the chocolate chip walnut cookie or an oatmeal raisin scone. Or select a crispy flatbread pizza or country baguette. If the lines are too long, you can always place an order for pickup or delivery.
Dining at 305 West End Assisted Living
Even though they are surrounded by some of the best eateries in New York City, a majority of the residents at 305 West End Assisted Living choose to dine in.
Director of Dining Services Berne Celisca believes he knows why. "People who have lived in New York City their entire lives have high standards and expect the best. Everything about 305 West End has been designed to meet and exceed those expectations – especially when it comes to the cuisine we prepare and serve daily."
Residents at 305 West End can choose to eat in our country club dining room for more formal meals, try our Bistro Grille for a hot beverage or a panini, or enjoy a light snack at the juice bar. All meals, as well as a host of other upscale services and amenities, are offered at 305 West End.
To learn more about living at 305 West End Assisted Living, request a complimentary brochure today.