While the 1960s had fondue and the 1990s brought a plethora of coffee drinks, the early 2020s have brought plant-based options into the spotlight.
In fact, a recent survey found that more than 9.7 million Americans reported following a plant-based diet. And plant-based foods comprised a $7.4 billion industry in 2021.
What's the reason for the trend? And what exactly does plant-based mean? Read on to learn more.
What is Plant-Based Eating?
As the name implies, plant-based foods incorporate ingredients from fruits, vegetables, legumes, and grains. They don't include any animal-based products, making them vegan.
While plant-based foods are vegan, it's unnecessary to conform to a permanent eating style to enjoy them. The Beet reported that, although the number of people following a plant-based diet is growing, that number outpaced the growth of people identifying as strictly vegan. (Just three percent of adults over age 65 report being vegan.)
Plant-based eating may be as simple as choosing foods without meat or dairy — like nut butter, salad, or rice. Increasingly, store shelves are also stocked with plant-based food alternatives that usually include meat or dairy. For example, you may find oat or almond milk, burgers made from soy, or coconut yogurt.
Simply put, people choose more plant-based foods as part of their overall diet while still incorporating animal products.
Health Benefits of Plant-Based Eating for Seniors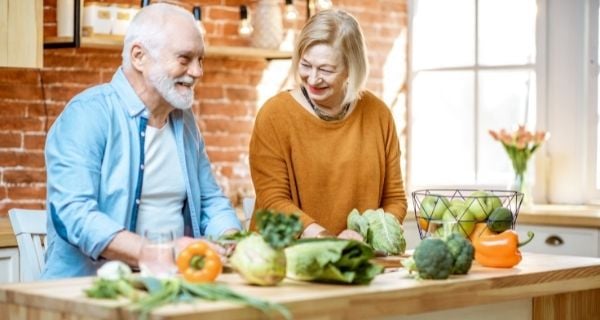 The risk for certain diseases, like Alzheimer's disease or coronary heart disease, increases as we age. Taking steps such as incorporating a plant-based diet may help seniors reduce the risk of developing these conditions.
The American Institute for Cancer Research has found that plant-based diets can help lower your risk for cancer and other chronic diseases. The MD Anderson Cancer Center also reports that a plant-based diet can help boost your immune system, increase the amount of fiber you consume, and reduce inflammation.
Additional studies reviewed by the Physicians Committee for Responsible Medicine also found that plant-based diets can help reduce the risk of these conditions that may be more common among seniors:
Reduce the risk of developing metabolic syndrome and type 2 diabetes by about 50%.
Reduce the risk of coronary heart disease events by about 40%.
Reduce the risk of cerebral vascular disease events (such as stroke) by 29%.
May reduce the risk for cognitive diseases, such as Alzheimer's, by almost 50%.
Other Reasons to Choose a Plant-Based Diet
Some people choose plant-based foods out of concern for the environment. Growing food, for example, often requires less land and less water to produce the same amount of food compared to raising animals for meat or dairy products. It also produces fewer greenhouse gases. Others have ethical concerns about eating animal products.
Food allergies and sensitivities also play a role in the rise of plant-based choices. For example, those who are allergic or sensitive to dairy may find the plethora of plant-based milk options a good substitute.
Tips for Incorporating Plant-Based Foods into Your Diet
Eating a plant-based diet can be adapted to fit your needs and preferences. Perhaps you just want to include one or two plant-based meals per week. Or maybe you are interested in making a more significant lifestyle change. Whatever you decide, these tips will help you incorporate more plant-based foods into your diet.
When making a major dietary change, it's a good idea to speak with your doctor first. They can help advise you on your plan and ensure you're still consuming key nutrients.
Determine why you want to eat more plant-based foods. Is it for health reasons? The environment? Simply a change of pace? Knowing your goals and reasons for making a change will help you plan your eating habits more effectively.
If you're brand new to plant-based foods, start by dipping your toe in with a meal or two a week, or just try one new food item.
Another way to think about eating more plant-based foods is simply by incorporating more fruits and vegetables into your diet. For example, add fruit to your morning oatmeal or choose a side salad with your lunch.
Dining out? Although there are vegan restaurants, even a restaurant with a heavy focus on meat often features lighter options. Peruse the menu to see what's available — you may be pleasantly surprised.
Ensure you're eating plenty of calcium, protein, and vitamin B12. These are essential nutrients — especially for seniors — but a strictly plant-based diet may make it challenging to get enough of each.
If you're grocery shopping, read labels carefully. Although some foods may be technically plant-based — like a donut — they aren't necessarily healthy.
There are no right or wrong ways to incorporate plant-based foods — see what works best for you and your needs. You may find a new favorite food or your next dinner party entree.
Where to Find Plant-Based Recipes and Food Ideas
The internet is bursting with suggestions for plant-based meals and eating plans, whether you prefer to let someone else plan meals for you or just find recipes you can incorporate.
The T. Colin Campbell Center for Nutrition Studies offers a guide to scanning menus and ordering plant-based options for those dining or ordering out.
And if you're looking to learn more about plant-based eating in a social atmosphere, seek out cooking classes near you geared toward vegans or vegetarians. Online options are also available, so you can learn to prepare a new meal from the comfort of your home.
Related: Simple Mediterranean Diet Recipes You Can Prepare at Home >>
Healthy Meal Options at 305 West End Assisted Living
305 West End Assisted Living understands that a healthy diet is one component of healthy aging. Residence in our community includes three daily nutritious meals, each served in our country club dining room. Residents may also dine or pick up a snack at our bistro grill and juice bar.
Upper West Side Eateries with Plant-Based Options
In addition, our convenient Upper West Side location means residents also have easy access to restaurants, grocery stores, and markets in the surrounding area.
Nearby Upper West Side eateries with plant-based meal options include:
More Health & Nutrition Tips for You
Learn more about staying healthy with our blog. From information about stretching to tips on improving your quality of sleep, you'll find something to help you feel your best.