In this blog series, The Caregiver's Toolkit for Alzheimer's and Dementia, we offer in-depth resources for those caring for a loved one with Alzheimer's or dementia.
---
Many individuals in the early stages of Alzheimer's or dementia are capable of either staying in their homes or with a loved one for an extended time – requiring only minimal assistance with daily tasks. However, it's important to recognize that those living with Alzheimer's disease or dementia have an increased chance of injuring themselves at home, especially as their condition progresses.

This blog from the team at 305 West End shares a home safety checklist, as well as simple adjustments caregivers can make to help keep the home environment safe and comfortable for their loved one.
Home Safety Checklist for Someone with Alzheimer's or Dementia
Secure hazardous products and appliances with child-proof locks on cabinets.
Use non-skid mats and floor strips to help prevent falls.
Remove interior door locks for quick access in an emergency.
Install a monitoring device to safely manage wandering behaviors at night.
Remove clutter on the floor and any other trip hazards.
Be mindful of heat sources, such as a fireplace, stove, or space heater.
Use brightly colored tape to mark elevation changes, like a step or stairway.
Limit the number of visitors and the noise level to create a calm environment.


Understanding How Alzheimer's and Dementia Impact Safety
As dementia progresses into the middle and later stages of the disease, staying at home can introduce a unique set of challenges. A home environment can pose a variety of safety risks due to your loved one's cognitive impairment, as well as changes in their senses.

For instance, your loved one may not remember how to use everyday household appliances, or forget that they've left a pot of soup on a hot stove. Confusion about the date and time may cause them to cook breakfast at midnight, or decide to take a drive alone in the middle of the night.

Memory-related cognitive disorders such as Alzheimer's and dementia affect more than your loved one's ability to think and remember things. There are physical symptoms associated with dementia that should be considered when planning for safety. For example, poor balance might cause a fall, while trouble distinguishing between hot and cold may lead to burns.

Early Signs and Symptoms of Alzheimer's and Dementia >>


Evaluating Home Safety
As you evaluate the safety of the home where your loved one is living – either their own or yours – consider their current abilities and behaviors. Do they wander? Can they manage stairs? If they have trouble lifting their feet or have experienced balance changes, be sure to look for potential tripping hazards, too. As your loved one's condition progresses, you will need to re-evaluate each of these safety considerations.
Bathroom and Kitchen Safety
Identify and secure hazardous products and appliances. Install child-proof locks on cabinets that contain chemicals, cleaning products, potentially dangerous items (such as matches, knives, or scissors), or medicines that could harm your loved one. As an added safety precaution, use child-proof caps for medications as well.
Invest in non-skid mats and floor strips. Ensure that the bathtub or shower has a non-skid mat in place. Remove throw rugs or secure them with non-skid rug pads as an extra precaution.
Remove door locks. Remove interior door locks so you can get to your loved one quickly in the event of an emergency.
Put reminders near hot surfaces, such as the toaster oven, stove, or iron. These can be simple messages such as "Caution!" or "Stop! Very hot!" Also, unplug any appliances in the kitchen when they are not in use.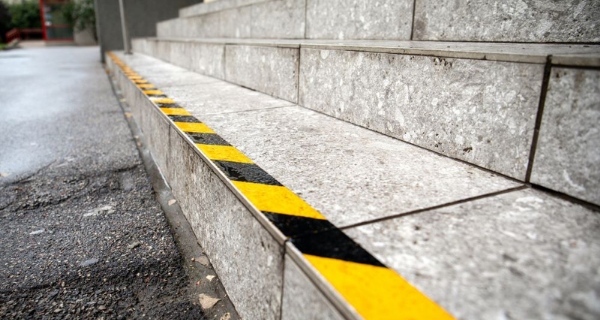 Living Room and Bedroom Safety
Install a baby monitor in the bedroom. If your loved one is living with you, consider installing a device such as a baby monitor in their room. This can be especially useful if your loved one tends to wander at night.
Address clutter immediately. Reduce the risk of tripping and falling by keeping well-traveled areas such as the bedroom and living room clutter-free. Also, remove or put out of reach any plants that are toxic to humans if touched or ingested.
Beware of external heating sources. Lit candles or an open fireplace can be dangerous when it comes to someone with cognitive impairments. Also exercise caution when using portable space heaters, heating pads, or electric blankets due to the risk of harm from fluctuating temperature sensitivity, as well as the potential misuse of these devices by your loved one.
Mark stairs and elevation changes in the home with brightly colored tape. If you have a sunken living room or a set of stairs, apply brightly colored tape to the edges to draw attention to changes in elevation. This may help prevent stumbles or falls.
Tips for Caring for a Loved One with Alzheimer's >>


Additional Safety Considerations
Although your loved one's hearing may be normal, their ability to process what they are hearing can be impacted as their condition progresses. To lessen the chances of them becoming confused or overstimulated, use the following tips:
Limit visitation to one or two people at a time. When placed in a situation with too many people, your loved one may become confused, agitated, or overwhelmed. This is especially true if your guests aren't regular visitors.
Reduce outside noise inside. If there is construction, traffic, or a noisy get-together nearby, close the windows or move your loved one to a quieter area of the house.
Be mindful of noise sources inside the home. The electronic devices in our homes can create quite a bit of noise. When combined, the sounds from the television, radio, computer, or smartphone can create a chaotic environment for your loved one. Check, and lower, the volume on all electronic devices to help prevent your loved one from becoming overwhelmed and confused.
More Caregiver Resources
Be sure to explore some of our additional caregiver resources, such as natural ways to boost your energy as a caregiver. If you would like to be notified about more articles like this one, including those in our caregiver's toolkit series, sign up for our newsletter by entering your email address in the subscription box on the right.