Adults living with Alzheimer's disease or other types of dementia may withdraw from their favorite activities – especially during the early stages of the disease. Unfortunately, this behavior can lead to social isolation and affect your loved one's mental health
Remaining engaged and active will help your loved one live purposefully through meaningful activities. In addition to improving their quality of life, continuing to participate in activities can benefit your loved one in a variety of ways
By making simple adjustments, you can help your loved one continue to enjoy activities – even as their disease progresses. This blog, curated by the 305 West End Assisted Living team, shares the benefits of activities for adults living with dementia and provides activity ideas and ways to appropriately modify them for your loved one.
Why Are Activities Important for Adults Living with Dementia?
Activities can provide a sense of purpose and independence, as well as help to lessen any agitation or anxiety your loved one might be experiencing. Loneliness and isolation are often associated with Alzheimer's disease and dementia – activities can be a simple way to incorporate more socialization into your loved one's daily routine.
On a practical level, activities can help your loved one maintain skills they use every day. Writing, drawing, singing, or dancing – activities can also be a great way for your loved one to express their feelings.
Depending on the type of activity, caregivers may be able to enjoy a few quiet moments alone, or spend time bonding with their loved one.
Related: Tips for Caring for a Loved One with Alzheimer's or Dementia >>
How to Adapt Activities for Adults Living with Alzheimer's Disease
Adapting activities for your loved one doesn't need to be complicated or time intensive. As you plan, keep in mind that your loved one may be worried about choosing the "right" activity, or concerned they won't be able to remember how to start or finish it. To help alleviate any pressure your loved one might be feeling, emphasize enjoying the experience rather than the end result.
To get started, try a few of the following recommendations from the Alzheimer's Association:
Assess their skills. Understand your loved one's abilities and suggest activities appropriate for their skill level.
Match the activity to their energy level. Early morning is typically the best time for higher-energy tasks like cleaning or gardening. Save lower energy tasks like reading or listening to music for the afternoon or early evening hours.
Follow their interests. What does your loved one enjoy doing? If possible, modify those activities so they can continue to enjoy.
Set the stage for success. Your loved one may need assistance with starting an activity or remembering the correct sequence. Be ready to guide them, but allow them to do as much as possible independently. Give plenty of time for the activity, and try to remain patient.
Keep safety in mind. Modify activities based on your loved one's physical limitations, such as impaired sight or hearing or limited mobility.
Have a backup plan. Be prepared with a few different activities in case your loved one isn't interested in the one you suggest.
Remember that you likely will need to modify activities as your loved one moves through the stages of Alzheimer's disease or dementia.
Related: Life Enrichment Opportunities for Those with Alzheimer's or Dementia >>
Try These Activity Ideas for Adults Living with Dementia
Look for opportunities throughout your day where you can involve your loved one. Can they help you set the table or dry the dishes after a meal? Do they enjoy gardening or other types of yard work?
Need more ideas? Many 305 West End residents in our memory care neighborhood enjoy the following activities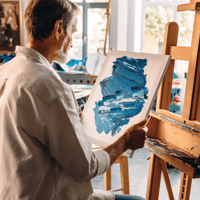 Paint, draw or write. If your loved one enjoys being creative, consider purchasing an art kit that you can do together. A trip to your local craft store or a quick search online will yield dozens of art projects you can try. Does your loved one enjoy writing? Encourage them to write their favorite memories down so they can be shared with other family members.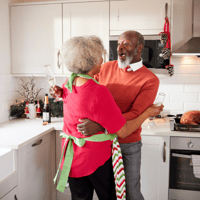 Sing or Dance. Do you know what type of music your loved one likes listening to? Consider creating different playlists that can be used for different situations – relaxing, bedtime, etc. If your loved one enjoys moving to the music, create a mix and join them on the dance floor!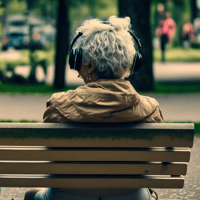 Read or listen to a book. If your loved one is able, reading can be a relaxing activity. Audiobooks are a great alternative if reading is too difficult or frustrating for your loved one. Many libraries offer audiobooks that you can borrow using your library card with the Overdrive or Libby Try suggesting books based on their interests or recommend books by their favorite author.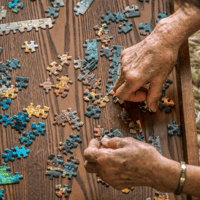 Play a game. Puzzles, as well as easy card or board games can be a fun activity for you and your loved. If they have trouble using their fingers or have difficulty seeing, look for puzzles and card games with larger pieces and easy-to-read lettering.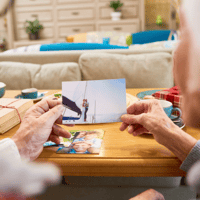 Create a memory box. Fill an empty shoe box with pictures and other mementos (playbills, tickets to a sporting event or concert, etc.) from your loved one's past. Looking through the box together can be a good activity – especially when they are anxious, or uninterested in other activities.

Explore More Caregiver Resources
If you found this article helpful, dive into one of our other great reads. Discover natural ways to boost your energy as a caregiver, or check out these time management tips.
This blog was originally published in February 2023. It was updated in December 2023.