We may think of the pursuit of happiness as a modern invention, but Marcus Aurelius famously said, "Very little is needed to make a happy life; it is all within yourself in your way of thinking."
He may have been onto something. While it can be a bit more complicated than just thinking positive, there are several keys to sparking joy and living a fulfilling life — and they're all within your grasp regardless of age.
The "Harvard Happiness Study"
268 Harvard sophomores participated in the Harvard Study of Adult Development, which began in 1938. (Among them was future president of the United States, John F. Kennedy). The goal was to compile data on their physical and mental health throughout their lives.
Over the years, the results have provided one clear answer as to what makes for a happy life: close relationships.
According to the study, having these strong bonds throughout one's life is more beneficial than outward trappings of success like money or fame. They can even outweigh factors like genetics and IQ.
While other behaviors, like eating a healthy diet, avoiding smoking and excessive alcohol use, and being physically active are important, the impact of having healthy relationships is equal, if not greater.
UC Berkeley Keys to Well-Being
The Greater Good Science Center at the University of California, Berkeley, has its own keys to happiness. According to its website, the center "studies the psychology, sociology, and neuroscience of well-being, and teaches skills that foster a thriving, resilient, and compassionate society."
Their 10 building blocks of well-being, for both yourself and your community, include:
Altruism

Awe

Bridging differences

Compassion

Diversity

Empathy

Forgiveness

Gratitude

Happiness

Mindfulness

Purpose

Social connection
While there are differences in how the studies approach happiness, there are common underlying themes — and things you can do to increase your happiness, regardless of life circumstances.
Tips for Seniors to Lead a Happier Life
Build Your Community
Both the Harvard and Berkeley sources cite relationships and a shared community as a key to a happy life.
However, a common challenge for aging adults is isolation. We've compiled a list of ways to create and strengthen friendships at any age in this blog article, including:
Visiting a senior center

Traveling with a group

Volunteering at a local nonprofit

Taking a class at a nearby college or university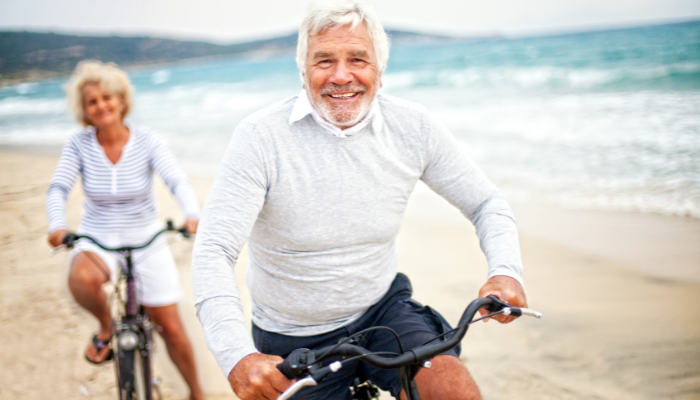 Maintain Healthy Habits
While strong relationships are a priority, healthy habits like regular exercise also play an important role in boosting mood and maintaining a happy life. And while you can't fight genetics, the National Institute for Aging recommends incorporating the following routines into your day-to-day activities to boost energy and overall positivity:
Regular exercise, such as walking, yoga, or gardening,

A healthy diet that includes fresh produce, whole grains, healthy fats - and less sodium, sugar, or saturated fats,

Not smoking or drinking in excess,

Regular doctor visits to help monitor or regulate changes in your health, and

Taking care of your mental health by reducing time alone and incorporating social activities such as board games or physical fitness with friends.
Enjoy Your Lifestyle
When considering physical activity, incorporate hobbies you enjoy, either old or new, and invite a friend to join.
Dr. Robert Waldinger, a psychiatrist at Massachusetts General Hospital and a professor of psychiatry at Harvard Medical School, explained, "When you are older, you have more opportunity to return to the activities you associate with happiness."
Whether your passion is hiking, enjoying a show on Broadway, sharing a dinner with friends, or something else, take time to nurture and grow your hobby.
Creating Joy at 305 West End Assisted Living
At 305 West End, our priority is ensuring residents have available resources to maintain an active, healthy lifestyle. From simple amenities such as laundry service and motorcoach transportation to social activities and nutritionally planned meals, our team ensures the next phase of your life suits your unique needs to achieve health and happiness.