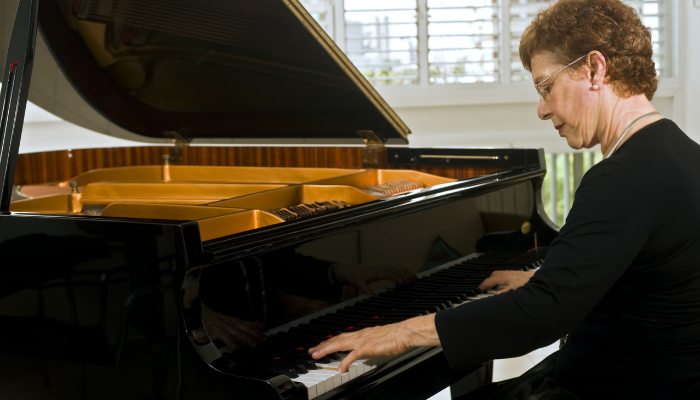 A simple tune, a jazzy melody, or a magnificent concerto - music has a profound effect on its listeners, no matter which genre you prefer.
Did you know hearing music can have benefits beyond improving your mood? Below, learn more about the power of music and see how it's helping seniors in New York City and beyond.
How Can Music Affect My Health?
According to Harvard Health Publishing, music can affect not only mood but also memory, cardiovascular function, and athletic performance.
Today's doctors tell us that music can enhance the function of neural networks, slow the heart rate, lower blood pressure, reduce levels of stress hormones and inflammatory cytokines, and provide some relief to patients undergoing surgery, as well as heart attack and stroke victims.
Although simply listening to music is different from intentional music therapy, a casual concert or listening to the radio can still provide the benefits listed above.
For people with dementia or other cognitive impairments, music can spark a reaction, too. According to Jackie Vanderbeck, founder and producing artistic director of the nonprofit Sing For Your Seniors, that's because music can touch a part of the brain that's unaffected by dementia.
"Somebody who might not even know their name anymore will perk up at the sound of a melody and sing the lyrics to the song," said Vanderbeck. "The music is a way of breaking through that barrier and making a connection with somebody. Our artists experience that a lot - it's really incredible."
Tips for helping your senior loved one stay socially active >>
Restoring Dignity Through Music
Concerts in Motion is another nonprofit that brings music to isolated, homebound, or hospitalized residents throughout New York City. Professional musicians can play requested pieces in any genre and perform in a variety of settings, from hospital bedsides to assisted living communities.
Drew Barnes, program manager at Concerts in Motion, says the organization's goal is to reduce isolation and bring dignity back to their listeners.
"Music is an experience that can be appreciated and engaged upon by everyone who is there, at any level, any capacity. No one is left out," she said.
Barnes added, "You're able to really tap back into that time in your life when you looked forward to going to the theater or going to a performance, and it doesn't have to be taken away from you. We can still bring it to you wherever you are."
Music can also help reduce isolation, according to Concerts in Motion's founder and executive director Jennifer Finn. Attending a concert is ritualistic - people instinctively know to sit together and listen when the music begins and to celebrate when the performance concludes.
"Using music as a cultural tool to alleviate social isolation is incredibly powerful," said Finn. "When a musician has devoted their life to a particular genre, and is playing from their heart, the listeners can really feel that too."
Get a closer look at the sophisticated lifestyle 305 West End Assisted Living offers >>
Music at 305 West End Assisted Living
At 305 West End Assisted Living, exposure to music and the arts is an ongoing effort. That's why we've partnered with both Sing for Your Seniors and Concerts in Motion for regular performances for our residents.
"We're not just there to perform at a group; we're really there to engage with the group, using music as a tool for engagement," said Vanderbeck. "We've gotten wonderful feedback so far."
Assisted living should combine the lifestyle preferences of each resident with the level of care they need to go about their day. 305 West End Assisted Living is dedicated to providing an upscale resident experience with a compassionate helping hand - so our residents can continue to live the life they deserve.
Learn more about assisted living at 305 West End.