This blog was originally published in November 2020 and updated in June 2022.
New York City's Upper West Side is steeped in history and culture. With reminders of prior eras, fascinating monuments and memorials are sprinkled throughout Riverside Park along the Hudson River
History buffs and outdoor enthusiasts alike will enjoy visiting these enduring monuments. Haven't been in a while? Take a leisurely walking tour and soak in the sights of the season.
Best Upper West Side Monuments and Memorials
If you are planning to visit all the memorials in one day, you can either start at 100th Street and work your way down to 72nd Street, or vice versa. The route is just over a mile and a half — we've also included the distance between each stop to help you along the way
Only interested in visiting one or two monuments at a time? No problem — linked addresses for each monument are also listed.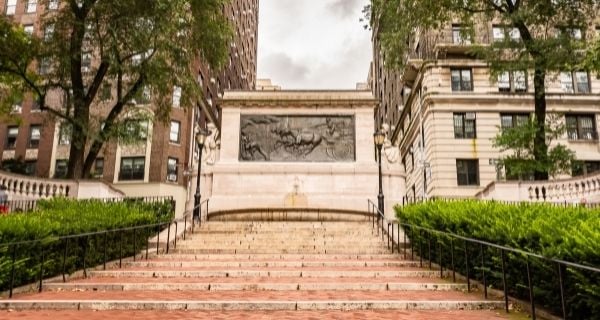 The Firemen's Memorial was dedicated in 1913 and designed by Harold Van Buren Magonigle
Firemen's Memorial

A massive monument and one of NYC's most visually stunning, the Firemen's Memorial pays tribute to past and present firefighters. It comprises a large staircase, fountain, plaza, and central memorial with a bas-relief sculpture of a horse-drawn fire engine.
This memorial was constructed in 1913 and gained prominence once more following the terrorist attacks on Sept. 11, 2001.
John Merven Carrère Memorial

Located a short distance south of the Firemen's Memorial is the John Merven Carrère Memorial. Constructed of Milford pink granite and dedicated in 1919, this rustic perimeter wall enclosing Riverside Park honors architect John Mervin Carrère
Carrère was born in Brazil and studied in Switzerland and France. Upon graduation, he moved to New York City and worked as a draftsman for McKim, Mead and White, an architectural firm
In the mid-1880s, Carrère formed a partnership with fellow architect and friend from Paris, Thomas Hastings. Their firm produced works across New York City, including the New York Public Library, Staten Island Borough Hall, and the Manhattan Bridge approaches and archway
Sadly, Carrère died in a car accident two months before the opening of the New York Public Library. Hastings designed the memorial for his longtime friend and partner.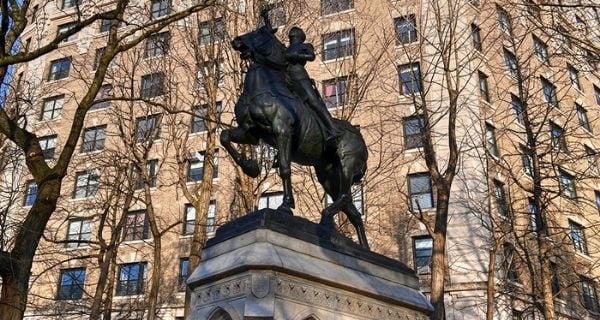 The Joan of Arc Memorial was dedicated in 1915 and created by Anna Vaughn Hyatt Huntington
Joan of Arc Memorial

If you are heading south on Riverside Drive, the next monument you'll see is the Joan of Arc Memorial.
Constructed in 1915 and the first memorial in NYC honoring a real-life (not fictional) woman, this monument is a hidden gem in Riverside Park. Female sculptor Anna Hyatt Huntington brought the figure to life, while architect John van Pelt incorporated several stones from the tower where Joan of Arc was imprisoned.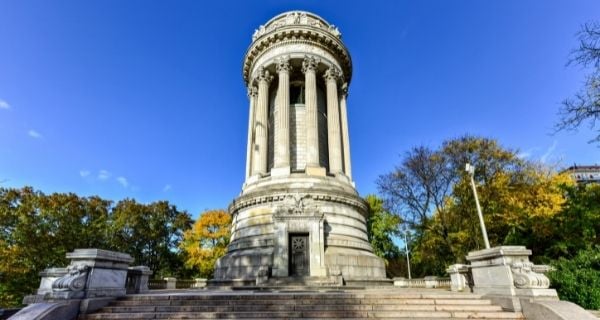 The Soldiers' and Sailors' Monument was unveiled in 1902 and designated as a municipal landmark in 1976.
Soldiers' and Sailors' Monument

Located relatively close to the Joan of Arc Memorial, the next stop heading south is the Soldiers' and Sailors' Monument. This turn-of-the-century structure honors Union soldiers and sailors from the Civil War. Its pillars and domed roof were based on an ancient Grecian monument and are formed of white marble
The indoor area is only open to the public on sporadic days throughout the year, but you can take in the sight of this classic monument anytime.
Warsaw Ghetto Memorial Plaza

Continuing south along Riverside Drive, you'll find a plaza with a quiet space and a plaque paying tribute to the victims of the Holocaust. The plaque within Warsaw Ghetto Memorial Plaza was dedicated in 1947, and while several larger monuments have been proposed over the years, none received funding.
Today, the idea of a larger monument has given way to leaving the plaza as originally constructed.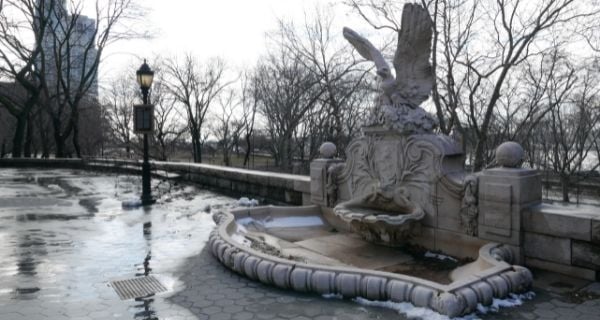 The Robert Ray Hamilton Fountain was dedicated in 1906 and crafted from Tennessee marble
Hamilton Fountain

Before the advent of automobiles, New York City was dotted with watering stations for horses. One of the best-preserved and most ornate is the 1906 Robert Ray Hamilton Fountain — which is just south of the Warsaw Ghetto Memorial
Carved in white marble, it depicts an eagle with wings spread and a dolphin's head spraying water. Interestingly, it was dedicated by the great-grandson of Alexander Hamilton — Founding Father and the first Secretary of the Treasury.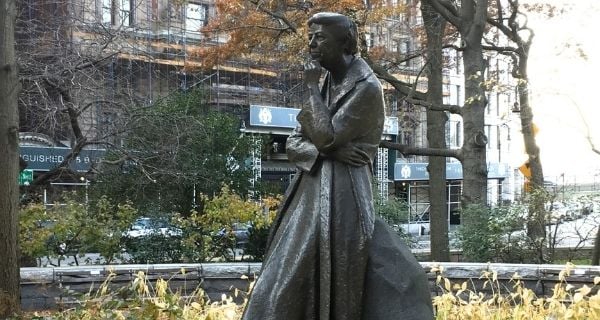 The Eleanor Roosevelt Memorial was dedicated in 1996 and sculpted by Penelope Jencks
Eleanor Roosevelt Memorial

A larger-than-life sculpture of former First Lady and humanitarian Eleanor Roosevelt stands at Riverside Drive and 72nd Street. One of the Upper West Side's newest monuments, the Eleanor Roosevelt Memorial was dedicated in 1996
The bronze statue sits amidst plaques and pavers detailing Roosevelt's contributions to both the United States and the world during her lifetime.
Enjoy Carefree Living in the City

For carefree living in the city — with a helping hand — look no further than 305 West End Assisted Living. Our location means you'll be steps away from Riverside Park, shopping, dining, entertainment, and more
Continue living in the city you love — at any age. Learn more about our luxury assisted living accommodations here in the heart of Manhattan.